Buy the Perfect Key Maze for Your Escape Room Today!
Posted by PHIL JANELLE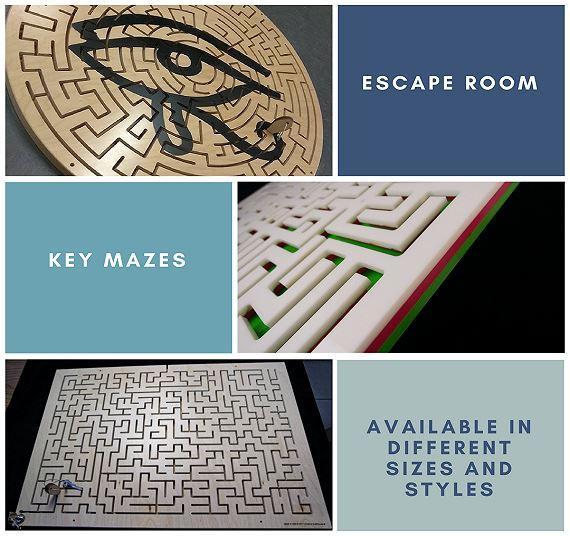 We have a unique and diverse offering of Escape Room Key Mazes which will help enhance your Escape Room experience.
Our escape room key mazes come in different shapes, materials, and sizes. We can even laser engrave a custom image on to our round key maze.
Most of our mazes also feature a quick reset system reducing the time needed to get your escape room ready for the next group
Our selection of round key mazes are all cut on our CNC machines and are quite rugged.
These do not have a quick reset, but it will not take long at all once the path is memorized. The solution is included to help the game master when resetting the room.
Our round key maze also comes in a Gated Version. This key maze requires multiple steps to complete.
There are two gates which impede the players ability to progress through the maze unless opened with a key. 
This creates a dynamic where players interact with not only the key maze, but multiple other puzzles which contain the gate keys.
We can also customize the round key maze by laser engraving an image on it. Below is an example featuring an Eye of Horus.
Our Largest Maze, the Key Maze III, is also cut on our CNC Machines.
We have developed a bridge system allowing you to link two key maze III together to form one giant key maze for your escape room.
The Key Maze II also comes in an acrylic version which is more durable than the wood version.
This version can be customized with different color acrylic. You can have it blend right in with the aesthetic of your escape room.
Our entry level Key Maze is the Key Maze II which is constructed from three layers of plywood. 
What are your thoughts on key mazes in escape rooms? Do you have a favorite key maze that sticks out from a escape room you have done?
Collection 2019
Sale 70% Off
Title for image